Collectively put everything you need in one place.
toc
Task Management
Assign and manage tasks between family members and track individual time spent on care.
lock
SafeKeeper
Securely store sensitive information like medication lists, insurance information, the Will, whatever is important to you.
accessibility
Wellness Checks
Automatically send wellness checks to the Senior tablet application and monitor acknowledgment.
date_range
Family Calendar
Get everyone on the same page with a shared calendar for managing events, tasks and appointments.
security
Security
Set individual permission settings so that only the members of the family that need access to secure information can do so.
alarm_on
3rd-Party Time Tracking
Invite 3rd party caregivers to the calendar, assign them tasks, track their time and keep a history of their notes on care activity.
Reduce fraud and track contributions with a transparent view of the Senior's financial picture.
account_balance
Monitor Accounts
Keep the cookie jar clear by loading existing bank accounts in a view only format to monitor finances.
compare_arrows
Funds Transfer
Transfer money to other authorized Team Members on the account securely.
credit_card
Senior Debit Card
A customizable debit card with features to track charges, limit spending by location, category or amount.
input
Contribute Funds
Each authorized Team Member can transfer funds to the Senior Debit Card via a secure transaction directly from their bank.
account_balance_wallet
Bill Pay
Pay bills directly from the Senior Debit Card account for housing, utilities, repairs or just everyday expenses.
report_problem
Reduce Fraud
Reduce fraud by monitoring transactions and limit exposure with the customizable Senior Debit Card.
Monitoring basic vital signs, behavioral and activity changes alert the family to potential issues.
watch
Fitbit Monitoring
Monitor heart rate, steps and sleep patterns.
aspect_ratio
Weight Monitoring
Track daily weight patterns to ensure health and wellness.
leak_add
Motion & Contact Sensors
Place motion and contact sensors to detect activity and movement. Use only the devices or sensors you need to give you piece of mind.
priority_high
Health Alerts
We track the history and alert the family to any changes that could indicate a problem or concern.
A tablet application tailored for the senior.
Reduce Senior isolation by keeping them engaged and informed. Customize the level of involvement based on their cognitive needs and capabilities.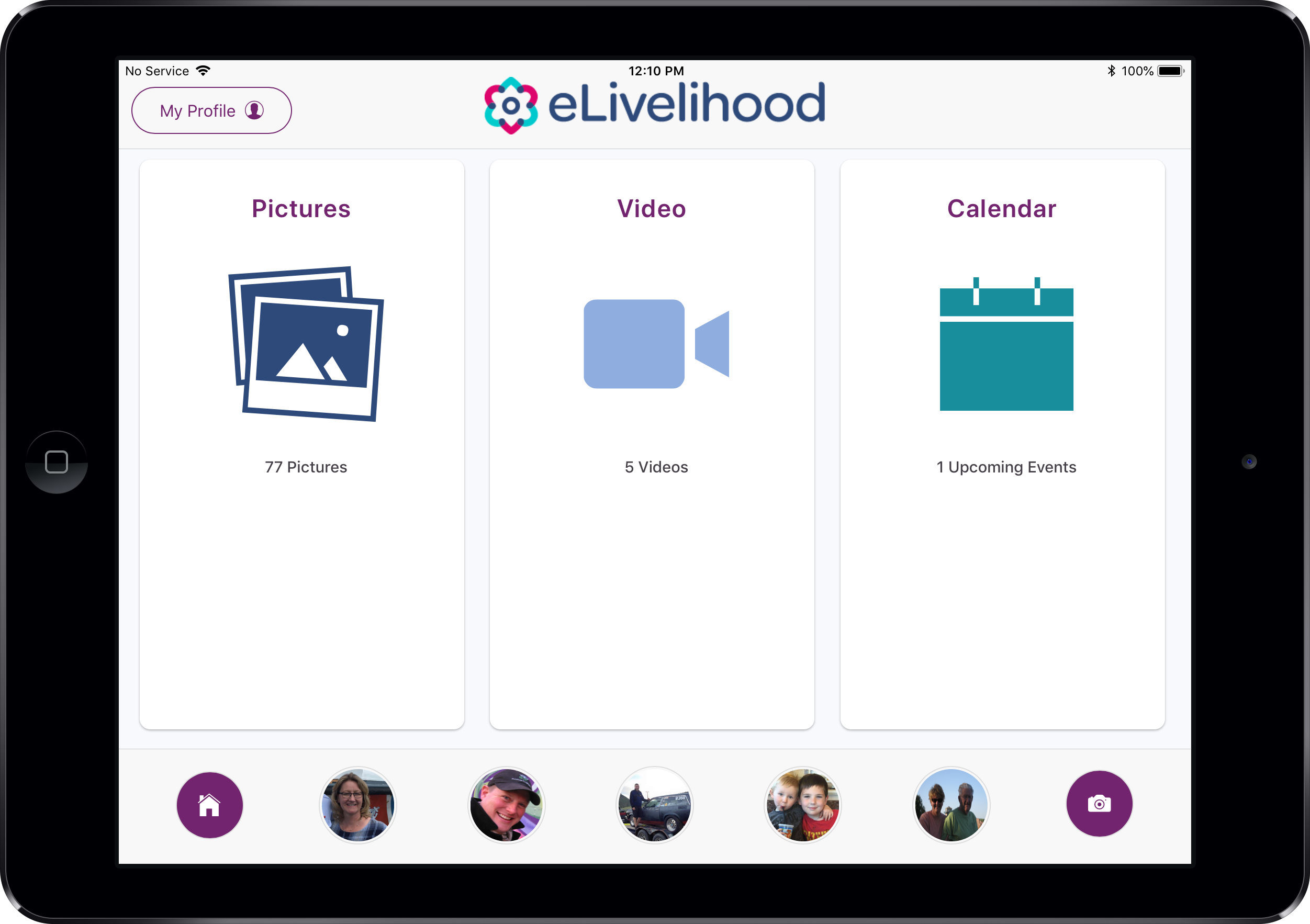 photo_library
Media Sharing
Instantly share picture and videos from extended family and friends directly to the tablet so the Senior stays connected to everyone.
event
Family Calendar
Allow the Senior to see calendar appointments to keep them involved in daily life planning.
favorite_border
Personal Health Data
Allows the Senior to see their health statistics. Motivates them to 'get in their steps' or change sleep patterns for better rest.
navigation
Easy Navigation
The app is specifically designed for Seniors to easily navigate, understand and operate.
accessibility
Medication Reminders
Automatically send medication reminders to the Senior tablet application and monitor acknowledgment.
touch_app
One Touch Contact
The Senior can contact anyone on their network with the tap of their avatar to send a text or email message.